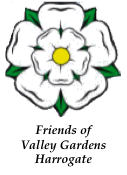 Friends Pages


Here you will find everything you need to know relating to the current and future activities of Friends of Valley Gardens Harrogate as well as important current information about Valley Gardens.
FOVG are a registered charity number 1148369 and we are supported by the National Lottery through the
Heritage Lottery Fund
.
Bulletins

RHS Harlow Carr to host
'Visions of Paradise' - Japanese Gardens in the UK.
This exhibit by the Japanese Garden Society is showing in the Bath House Gallery at RHS Harlow Carr from January 8th until February 25th from 10.00am to 3.00pm daily.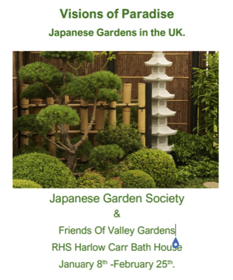 There is a section covering the Valley Gardens restoration project including work from all three participating schools.

As stated on the RHS website:
The most northerly RHS garden in Harrogate is turning Japanese in the New Year as it hosts an exhibition telling the story of Japanese gardens and how their design and planting styles inspired the British to build Japanese-style gardens here in the UK. There will also be a display devoted to the ongoing restoration of the 1920's Japanese-style garden in Harrogate's nearby Valley Gardens.

A pop-up Japanese Shop will set up in the garden selling authentic Japanese products and gifts throughout the exhibition and each weekend there will be a chance to try your hand at Japanese-inspired crafts such as calligraphy, origami, and the Chopstick Challenge under the expert guidance of Japanese tutors in traditional costume.

Admission to the gallery is free with paid admission to RHS Harlow Carr.


The King Edward VII Memorial Gate at the Green Park entrance to Valley Gardens:
This project is now fully funded and work is planned to start in Feb 2018. Please click
here
for more status.
1940's Day Under New Management:
FOVG is excited to report that henceforth the 1940's Day will be managed by Harrogate International Festivals. We are very appreciative that such an outstanding organization is taking over this very popular event.


Friends of Valley Gardens Win Platinum Award in the 2017 Yorkshire in Bloom Open Spaces Category!
Congratulations to all the volunteer gardeners and thanks for all the extra shifts you put in to bring the Gardens up the this standard. Also congratulations and thanks to Simon Collier, HBC Head Gardener, and his team for all their support.


Wanted - New FOVG Secretary:
FOVG is in need of a new Secretary. For further details please apply to Jane Blayney at
jane.blayney23@gmail.com
.
Future FOVG Meetings:
We have been well served by St Peter's Church enabling our past meetings to take place centrally. However, we now have the opportunity for a change and our next AGM will be held in the Jubilee Room of the Bramall Centre, RHS Harlow Carr at 10.00 am on Saturday, 3 March 2018.
The arrangements include
FREE ACCESS to Harlow Carr Gardens after each meeting!
We look forward to seeing you.

Support for New Zealand Artists:
On Saturday 15 April, 2017, the Friends were host to two artists from New Zealand who were exhibiting at the Harrogate Spring Flower Show. They received a guided tour of Valley Gardens.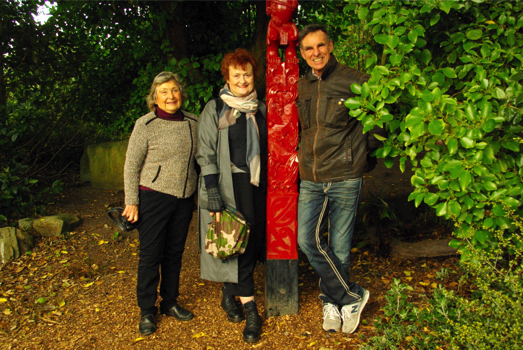 Visitors from New Zealand with Jane Blayney in the New Zealand Garden

Support to Harrogate Flower Show:
FOVG has also supported the Harrogate Spring Flower Show where our stand promoted 'Rooting for Harrogate', our bid to become Champion of Champions in 2017 Britain in Bloom, and the Yorkshire Business Market.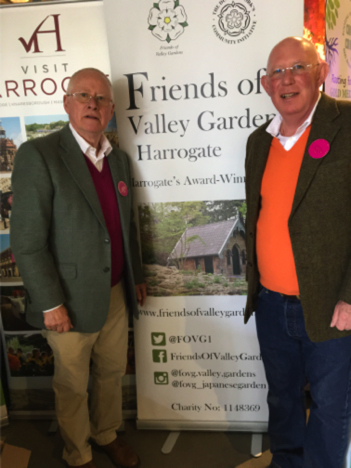 Jon and Steve (FOVG Publicity Officers) at the Spring Flower Show, Harrogate, 2017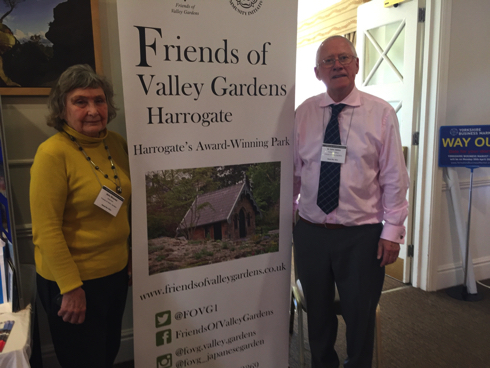 Jane Blayney (Chairman Friends Of Valley Gardens) and Jon Iddon (Publicity Officer)
at the Yorkshire Business Market, The Pavilions, Harrogate, March, 2017

FOVG to Develop Heritage Walks in Valley Gardens:
FOVG will shortly be developing Heritage Walks for people of all ages and abilities in Valley Gardens. More information will be promulgated as details are developed.
News

FOVG Newsletter:
The latest edition of our newsletter, the Albatross, is now available. You can download a copy by clicking on the link below. Past editions are also available:

Old Magnesia Well Pump Room Open Every Month:
The fully restored Old Magnesia Well Pump Room is now open each month on the first Sunday of the month from 10.00am to 3.30pm. Please drop by for a visit.
Openings can be arranged for groups or for private showings by contacting our Chairman, Jane Blayney at
jane.blayney23@gmail.com
or by phone at 07794583888.

Tours of Valley Gardens and Presentations are Now Available:
Friends of Valley Gardens are now offering tours of Valley Gardens and the Old Magnesia Pump Room as well as the sites of our
current projects
. We also provide presentations to community groups about Valley Gardens. The following informative presentations are now available to be booked:

"Restorations Completed and Being Undertaken" by Jane Blayney. Please call 07794 583 888

"East Meets West Through Japanese Gardens" by Ann Beeby. Please call 07966 729 299
Thanks to the HBC Small Grant Fund for their award of £818.89 which has enabled us to purchase a projector and screen to assist with these informative presentations.
The possession of a FOVG owned projector and screen will much enhance our outreach services in the form of presentations to the community.


If you are interested in scheduling a tour, please contact our Chairman, Jane Blayney at
jane.blayney23@gmail.com
. Tours can accommodate all types of groups. We have hosted both the Brownies and the History Society as well as the groups shown in the photos below. All proceeds are applied towards the restoration, maintenance, and refurbishment of Valley Gardens.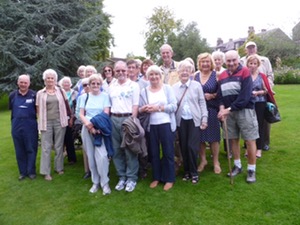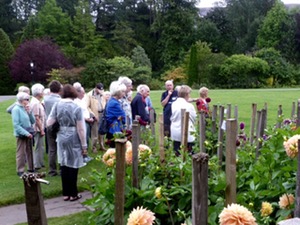 Recent tour for the Leeds Paxton Friday Forum lead by Jane Blayney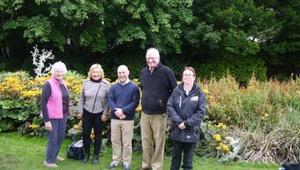 Tour for Shaun Kiddell, Parks Policy Adviser, Heritage Lottery Fund led by Jane Blayney

International Visitors to the Old Magnesia Well Pump Room:
Our Old Magnesia Well Pump Room is developing a world-wide following. Since the building was opened periodically during the refurbishment process starting in 2011, we have welcomed visitors from all over the UK as well as from New Zealand, Australia, Canada, France, Germany, Belgium, Austria, Ukraine, Czech Republic, and the states of California, Virginia, North Carolina, Ohio, and Wisconsin in the USA.

FOVG Gardening Group:
If you are interested in helping with the maintenance of the gardens within Valley Gardens, you will be pleased to know that FOVG has a volunteer gardening group. Please contact Liz Chidlow at
liz.chidlow@hotmail.co.uk
to be kept informed of future activities.


FOVG Leaflet Available:
FOVG have developed a leaflet about the organisation. Click
here
to download your copy. (It is a large file so please be patient.)