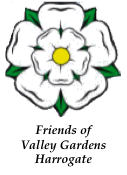 Friends Pages


Here you will find everything you need to know relating to the current and future activities of Friends of Valley Gardens Harrogate as well as important current information about Valley Gardens.
FOVG are a registered charity number 1148369 and we are supported by the National Lottery through the
Heritage Lottery Fund
.

Bulletins

Valley Gardens Head Gardner, Simon Collier Walked Coast to Coast to Raise Funds:
HBC's head gardener in Valley Gardens, Simon Collier, accompanied by his dog, Russell, Simon's brother, Michael, and good friend, Steve, have walked 84 miles spanning the length of Hadrian's Wall from Bowness to Wallsend. The walk, which was completed from 19th - 24th July, raised money to be divided equally between FOVG and Starbeck in Bloom.

Sponsors may deliver their sponsorship money (not already paid) to:
Simon Collier
in Valley Gardens
Monday to Friday 8.00am-4.00pm
or to Jane Blayney (Chairman, Friends Of Valley Gardens)
c/o 23 York Road Harrogate HG1 2QL

Cheques payable to Simon Collier


Below are some photos of the walk.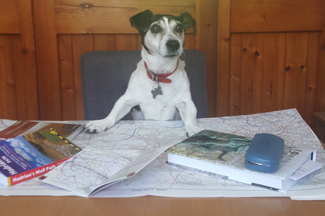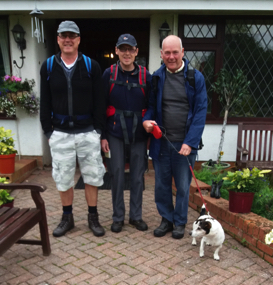 Planning the trip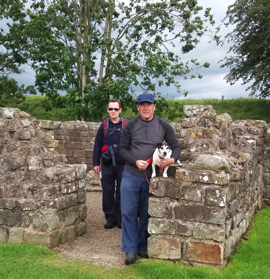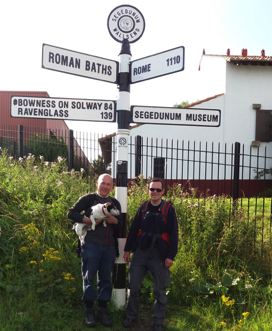 Seventh Annual Fabulous 1940s Open Day Hosts 39,000 Attendees:
FOVG would like to thank the volunteers and attendees at the 1940's Day who helped to make this year's event the most successful ever. The Harrogate Advertiser reports that more than 39,000 people enjoyed the beautiful weather and wonderful entertainment!
Future FOVG Meetings:
We have been well served by St Peter's Church enabling our past meetings to take place centrally. However, we now have the opportunity for a change and the next two meetings will be held in the Jubilee Room of the Bramall Centre, RHS Harlow Carr at 10.00 am on Saturday, 21 October for the General Meeting and on Saturday, 3 March 2018 for the AGM.
The arrangements include
FREE ACCESS to Harlow Carr Gardens after each meeting!
We look forward to seeing you.

Support for New Zealand Artists:
On Saturday 15 April, 2017, the Friends were host to two artists from New Zealand who were exhibiting at the Harrogate Spring Flower Show. They received a guided tour of Valley Gardens.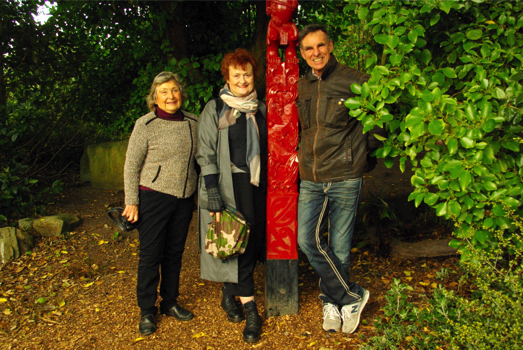 Visitors from New Zealand with Jane Blayney in the New Zealand Garden

Support to Harrogate Flower Show:
FOVG has also supported the Harrogate Spring Flower Show where our stand promoted 'Rooting for Harrogate', our bid to become Champion of Champions in 2017 Britain in Bloom, and the Yorkshire Business Market.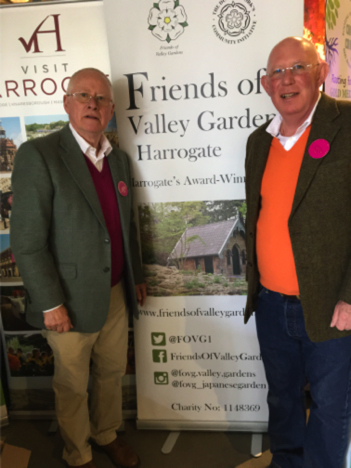 Jon and Steve (FOVG Publicity Officers) at the Spring Flower Show, Harrogate, 2017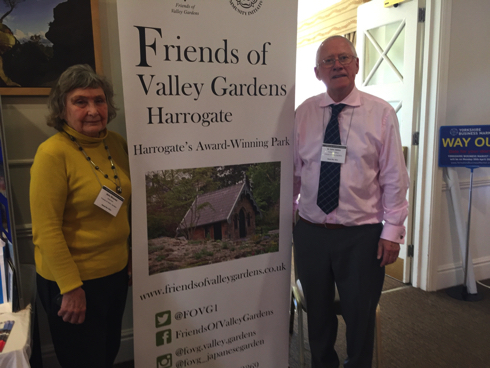 Jane Blayney (Chairman Friends Of Valley Gardens) and Jon Iddon (Publicity Officer)
at the Yorkshire Business Market, The Pavilions, Harrogate, March, 2017

FOVG to Develop Heritage Walks in Valley Gardens:
FOVG will shortly be developing Heritage Walks for people of all ages and abilities in Valley Gardens. More information will be promulgated as details are developed.
News

FOVG Newsletter:
The latest edition of our newsletter, the Albatross, is now available. You can download a copy by clicking on the link below. Past editions are also available:

FOVG AGM Held on 16 March 2017:
The AGM was held on 16th Mar in the Brostoff Community Center, St Peter's Church, Harrogate. It was followed by a talk given by celebrated local historian Malcolm Neesam entitled
"The Story of Harrogate's Parks and Gardens"
. Please click
here
for more information.

Peat Garden and Old Magnesia Well Pump Room Win Platinum Award in 2016 Yorkshire in Bloom and Also the 2016 Harrogate in Bloom Shield:
FOVG are delighted to announce that we received a Platinum award (the top one) in the Open Spaces category for the Peat Garden and Old Magnesia Well Pump Room Project. We also received the 2016 Harrogate in Bloom Shield. These are great results and we send a big thank you to all of you who have helped on this project and continue to maintain the garden and the pump room. This is a testament to all your hard work
. To learn more about this project and our entry, please click
here
.


Liz Chidlow, FOVG Garden Volunteer Organiser,
receives the Yorkshire In Bloom Parks and Open Spaces
Award 2016 on behalf of FOVG.

FOVG's Current Projects:
With the completion of the restoration of the Old Magnesia Well Pump Room and Gardens, FOVG is now pursuing two new projects:

Restoration of the Japanese Garden

led by Ann Beeby and Liz Chidlow. To view the draft plan, click

here

.

Restoration of the Green Park Entrance

to the Gardens led by David Mason
To learn more about these projects, please click
here
.


Old Magnesia Well Pump Room Open Twice Every Month:
The fully restored Old Magnesia Well Pump Room is now open twice each month on the first and third Sundays of the month from 10.00am to 3.30pm. Please drop by for a visit.
Openings can be arranged for groups or for private showings by contacting our Chairman, Jane Blayney at
jane.blayney23@gmail.com
or by phone at 07794583888.

Tours of Valley Gardens and Presentations are Now Available:
Friends of Valley Gardens are now offering tours of Valley Gardens and the Old Magnesia Pump Room as well as the sites of our
current projects
. We also provide presentations to community groups about Valley Gardens. The following informative presentations are now available to be booked:

"Restorations Completed and Being Undertaken" by Jane Blayney. Please call 07794 583 888

"East Meets West Through Japanese Gardens" by Ann Beeby. Please call 07966 729 299
Thanks to the HBC Small Grant Fund for their award of £818.89 which has enabled us to purchase a projector and screen to assist with these informative presentations.
The possession of a FOVG owned projector and screen will much enhance our outreach services in the form of presentations to the community.


If you are interested in scheduling a tour, please contact our Chairman, Jane Blayney at
jane.blayney23@gmail.com
. Tours can accommodate all types of groups. We have hosted both the Brownies and the History Society as well as the groups shown in the photos below. All proceeds are applied towards the restoration, maintenance, and refurbishment of Valley Gardens.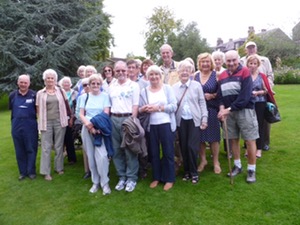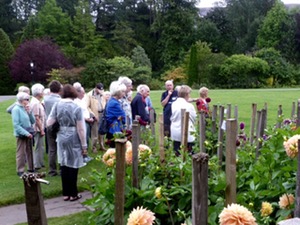 Recent tour for the Leeds Paxton Friday Forum lead by Jane Blayney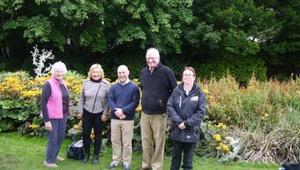 Tour for Shaun Kiddell, Parks Policy Adviser, Heritage Lottery Fund led by Jane Blayney

International Visitors to the Old Magnesia Well Pump Room:
Our Old Magnesia Well Pump Room is developing a world-wide following. Since the building was opened periodically during the refurbishment process starting in 2011, we have welcomed visitors from all over the UK as well as from New Zealand, Australia, Canada, France, Germany, Belgium, Austria, Ukraine, Czech Republic, and the states of California, Virginia, North Carolina, Ohio, and Wisconsin in the USA.

FOVG Gardening Group:
If you are interested in helping with the maintenance of the gardens within Valley Gardens, you will be pleased to know that FOVG has a volunteer gardening group. Please contact Liz Chidlow at
liz.chidlow@hotmail.co.uk
to be kept informed of future activities.


FOVG Leaflet Available:
FOVG have developed a leaflet about the organisation. Click
here
to download your copy. (It is a large file so please be patient.)