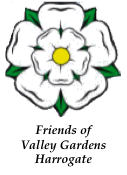 Friends Pages


Here you will find everything you need to know relating to the current and future activities of Friends of Valley Gardens Harrogate as well as important current information about Valley Gardens.
FOVG are a registered charity number 1148369 and we are supported by the National Lottery through the
Heritage Lottery Fund
.

Bulletins

FOVG AGM Held on 16 March 2017:
The AGM was held on 16th Mar in the Brostoff Community Center, St Peter's Church, Harrogate. It was followed by a talk given by celebrated local historian Malcolm Neesam entitled
"The Story of Harrogate's Parks and Gardens"
. Please click
here
for more information.

Update on the Consultation on Large Events in Valley Gardens from October 2017


The decision by Harrogate Borough Council has been a long time coming. They have been in regular consultation over this period with the Streat Fest and have decided that the event should be held in Valley Gardens.
The Advertiser has reported that the event is to be in the Bog's Field area but Harrogate Borough Council had told us
that the event will be in the upper part of the Valley Gardens in the Sun Pavilion/Bandstand area. I am of the belief that this will be clarified in the Harrogate Advertiser.
The Streat Fest has been advised to take care of the area with suitable protection, especially for heavy vehicles. Harrogate Borough Council will monitor the event.
To many of us this a disappointment but not because we dislike Food Fests but because of the vulnerability of the area and the preference for the event to be sited on a hard surface.
Many of the public enjoyed the event and we have to accept the decision of the Administration and Harrogate Borough Council.
To date we have not been informed of any similar large events being sited in Valley Gardens.
For any further information contact Jane Blayney (Chairman Friends Of Valley Gardens ) 01423 505231,
jane.blayney23@gmail.com
You Can Now Follow FOVG on:
_________________________

___________
Twitter
_________________________

___________
Facebook
________________
______
Instagram
(for Friends of Valley Gardens)

_________________________

__________
Instagram
(for Japanese Garden Restoration)

Heritage Lottery Award for the Japanese Garden Restoration



The Heritage Lottery Fund has awarded a grant of £89,200 towards the restoration and refurbishment of the Japanese Garden. The first part of our grant has been received. Click here to see how we are getting on.

Seventh Annual Fabulous 1940s Open Day to be Held in Valley Gardens on 18th June: FOVG is pleased to announce that the seventh annual 1940s Open Day in Valley Gardens will be held on 18th June. Please plan now on joining us for this fantastic event. Last year we had approximately 30,000 visitors. Let's make this year even bigger!

List of Events and Bandstand Programme
10.30am March of Evacuee Children from Valley Gardens Main Gate led by the Mayor of Harrogate, Harrogate Band, Western School and visiting children plus accompanying adults. (40s Dress preferred but not essential)
11.00 Official Opening by Mayor of Harrogate
11.10 Western School
11.30 Harrogate Band
Midday Major Swing and Kitty
1.00pm Maria Manchester
2.15-3.00 Echo42 Band
3.15 Harrogate Harmony Barbershop Chorus
4.00-5.00 Echo 42 Band

Event Compared by Major Swing
Fly Past by Battle of Britain Memorial Flight (confirmed - details to follow).

For further details, please contact Jane Blayney (Chairman Friends of Valley Gardens)
01423 505231, 07794583888, email jane.blayney23@gmail.com

News
Report on the Community Consultation on the Usage of Valley Gardens for Large Events: Recently a large event was held in Valley Gardens and, although the event was successful, it left a significant impact on the Gardens with extensive portions of grass damaged. Because of this, local residents requested a public meeting on the future use of Valley Gardens which was held on 20th Oct. Jim Clark, a former Major of Harrogate, chaired the meeting.

FOVG President, Jane Blayney has presented the following report on the meeting and the current status:

Firstly thank you to everyone who attended the meeting and for giving your views on the usage of the Valley Gardens for larger, multi-day events eg the Harrogate Streat Food Fest.
I had hoped to report back with a decision from Harrogate Borough Council as to their decision sooner.
It is now nearly three months later and I am assured by Patrick Kilburn Head of Parks and Strategic Services and Michael Harrison Deputy Leader that no decision has yet been made.
Friends Of Valley Gardens (FOVG) has no input into the decision that will be made.
We have seen a Streat Food Fest booking form issued for Valley Gardens in August 2017. Michael Harrison is aware of this, but again stated that no decision has been made by Harrogate Borough Council, as to whether the event will take place or other similar large events in Valley Gardens in 2017.
Everyone valued Valley Gardens and were supportive of the smaller, one day events which cause little or no damage to the area. Some supported the Streat Fest returning to the Valley Gardens in 2017, others thought the Streat Food Fest should have another chance under better guide lines and with more monitoring, as a solution and others thought the event should in future be sited elsewhere on a hard surface, protecting Valley Gardens from the risks of the damage incurred to the area this year.
The decision will be made by HBC and the Administration and should you need further information contact Patrick Kilburn Head of Parks and Strategic Services or Michael Harrison Deputy Leader.
Thank you again for coming to the consultation and airing your views and opinions and listening to those of others.

Peat Garden and Old Magnesia Well Pump Room Win Platinum Award in 2016 Yorkshire in Bloom and Also the 2016 Harrogate in Bloom Shield: FOVG are delighted to announce that we received a Platinum award (the top one) in the Open Spaces category for the Peat Garden and Old Magnesia Well Pump Room Project. We also received the 2016 Harrogate in Bloom Shield. These are great results and we send a big thank you to all of you who have helped on this project and continue to maintain the garden and the pump room. This is a testament to all your hard work. To learn more about this project and our entry, please click here.



Liz Chidlow, FOVG Garden Volunteer Organiser,
receives the Yorkshire In Bloom Parks and Open Spaces
Award 2016 on behalf of FOVG.

FOVG Receives the Harrogate in Bloom Shield for 2016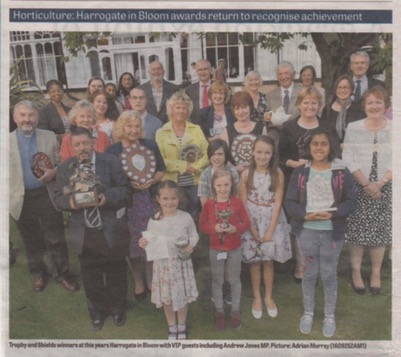 Jane Blayney (Chairman Friends Of Valley Gardens) receives the
Harrogate In Bloom Shield 2016 on behalf of Friends Of Valley Gardens

FOVG Newsletter for Autumn 2016 Now Available: Please click here to download the latest edition of our newsletter, the Albatross. You can view previous editions by scrolling down this page.

Aerial Video of Valley Gardens Now Available: An aerial video of Valley Gardens has been created and offered to us for display for free. We extend out thanks to David Bridgen of DroneCam Solutions Ltd of Harrogate. Please click here to view the video.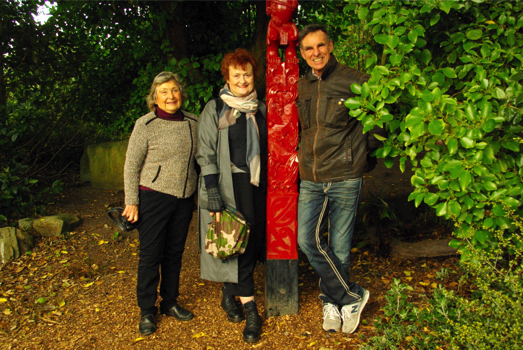 In the video you will note the floral display depicting initials and the number 50. This represents the 50 years of the Harrogate International Festival and four famous authors: WS for William Shakespeare who died 400 years ago, BP for Beatrix Potter who was born 150 years ago, CB for Charlotte Bronte who was born 200 years ago, and RD for Roald Dahl who was born 100 years ago. There are approximately 11,000 plants in this display!

FOVG Is Now Undertaking Two New Projects: With the completion of the restoration of the Old Magnesia Well Pump Room and Gardens, FOVG is now initiating two new projects:

Restoration of the Japanese Garden

led by Ann Beeby and Liz Chidlow. To view the draft plan, click

here

.

Restoration of the Green Park Entrance

to the Gardens led by David Mason
To learn more about these projects, please click
here
. If you would like to make a donation, please click on the button below.


You can also donate by designating FOVG as your charity of choice when purchasing goods from the two Otley Road, Harrogate Co-Ops. When you do, one percent of your purchase will go to help fund bridges in the Japanese Garden.

Old Magnesia Well Pump Room Open Every Month:
The fully restored Old Magnesia Well Pump Room is now open each month on the first and third Sundays of the month from 10.00am to 3.30pm. Please drop by for a visit.
Openings can be arranged for groups or for private showings by contacting our Chairman, Jane Blayney at
jane.blayney23@gmail.com
or by phone at 07794583888.

Tours of Valley Gardens and Presentations are Now Available:
Friends of Valley Gardens are now offering tours of Valley Gardens and the Old Magnesia Pump Room as well as the sites of our current projects. We also provide presentations to community groups about Valley Gardens. The following informative presentations are now available to be booked:

"Restorations Completed and Being Undertaken" by Jane Blayney. Please call 07794 583 888

"East Meets West Through Japanese Gardens" by Ann Beeby. Please call 07966 729 299
Thanks to the HBC Small Grant Fund for their award of £818.89 which has enabled us to purchase a projector and screen to assist with these informative presentations.
The possession of a FOVG owned projector and screen will much enhance our outreach services in the form of presentations to the community.


If you are interested in scheduling a tour, please contact our Chairman, Jane Blayney at
jane.blayney23@gmail.com
. Tours can accommodate all types of groups. We have hosted both the Brownies and the History Society as well as the groups shown in the photos below. All proceeds are applied towards the restoration, maintenance, and refurbishment of Valley Gardens.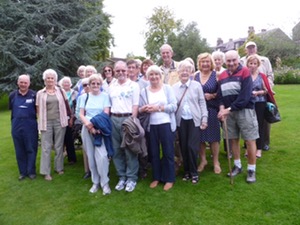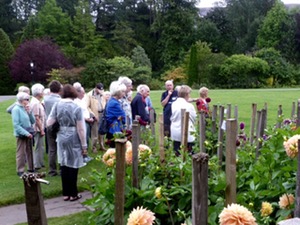 Recent tour for the Leeds Paxton Friday Forum lead by Jane Blayney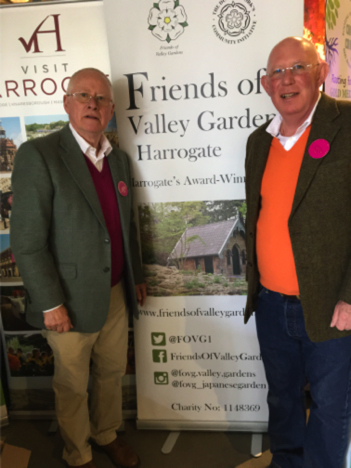 Tour for Shaun Kiddell, Parks Policy Adviser, Heritage Lottery Fund led by Jane Blayney

6th Annual 1940s Open Day Was a Great Success!:
Our 6th Annual 1940's Day was held on 19th June and was a great success. To view some photos of the day, please click
here
.

Old Magnesia Well Pump Room Photos:
Here are two photos of the Old Magnesia Well Pump Room looking grand in the snow in 2015 and in the spring of 2016. Thanks to all who have supported this restoration project!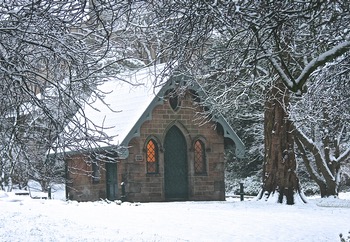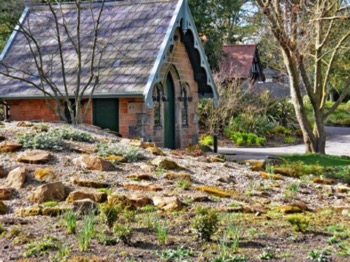 International Visitors to the Old Magnesia Well Pump Room:
Our Old Magnesia Well Pump Room is developing a world-wide following. Since the building was opened periodically during the refurbishment process starting in 2011, we have welcomed visitors from all over the UK as well as from New Zealand, Australia, Canada, France, Germany, Belgium, Austria, Ukraine, Czech Republic, and the states of California, Virginia, North Carolina, Ohio, and Wisconsin in the USA.

FOVG Newsletter:
Our newsletter, the Albatross, is available by clicking on the links below:

FOVG Gardening Group:
If you are interested in helping with the maintenance of the gardens within Valley Gardens, you will be pleased to know that FOVG has a volunteer gardening group. Please contact Liz Chidlow at
liz.chidlow@hotmail.co.uk
to be kept informed of future activities.


FOVG Leaflet Available:
FOVG have developed a leaflet about the organisation. Click
here
to download your copy. (It is a large file so please be patient.)