The Duke of York Community Initiative Award


FOVG Wins Duke of York Community Initiative Award

On 22nd Oct 2012, Friends of Valley Gardens were awarded the Duke Of York Community Initiative Award for its project to restore the Old Magnesia Well Pump Room. This award has been extended in 2018 for another five years. Thanks to all who have helped with the project and to those whose contributions have made the project possible.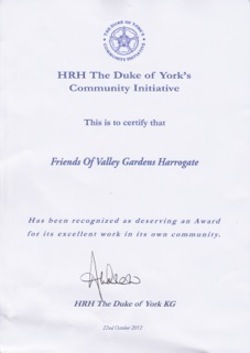 The Duke of York's Community Initiative supports projects through a dedicated award scheme and recognition of excellence. Its principal aim is to foster and increase community spirit throughout Yorkshire and it is only awarded to community schemes of outstanding merit that meet the rigorous and robust assessment criteria.
The first Community Initiative Awards were presented by HRH in January 1998. More information about the award can be found here
http://www.thedukeofyorkscommunityinitiative.org.uk/


On receiving the award, Friends Of Valley Gardens Harrogate Chairman, Jane Blayney, said: "Being awarded the Duke of York Community Initiative is a fantastic achievement and a real honour for us and the members who give their time so freely. "We are very proud of the work we do and this award is a marvellous seal of approval."
Simon Blagden, Chair of Trustees for The Duke of York's Community Initiative Award scheme, said: "On behalf of myself and the Assessment Panel, I would like to offer our congratulations on what is a great achievement."
Friends Of Valley Gardens Harrogate received its award from The Lord Lieutenant of the East Riding of Yorkshire, the Hon Susan Cunliffe-Lister, who also read a personal message from The Duke of York, who was unable to attend the Ceremony because of the thick fog which was prevalent across the country. HRH subsequently greeted FOVG President, Martin Fish and Chairman, Jane Blayney on 5
th
Dec.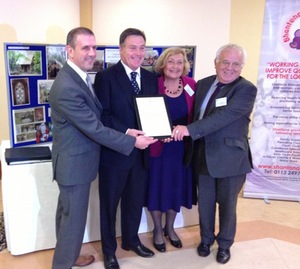 Neil Hughes Vice Chairman, Friends Of Valley Gardens, Martin Fish President, Jane Blayney, Chairman, Jim Clark Treasurer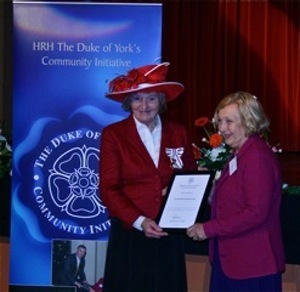 The Hon Susan Cunliffe-Lister, Lord Lieutenant of East Riding of Yorkshire, presents the Duke Of York Community Initiative Award to Jane Blayney, Chairman Friends Of Valley Gardens Harrogate


The Citation for the award to FOVG states: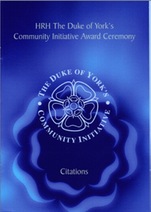 "This is a well-run organisation with 200 members and a small band of volunteers drawn from the community which works to maintain and improve the Valley Gardens, one of the jewels of Harrogate. It promotes and encourages the involvement of the local community of all ages, irrespective of creed, ethnicities and mental and physical ability in the enhancement, management, conservation and preservation of the area known as "Valley Gardens Harrogate." Presently the prime project is the Restoration of The Old Magnesia Well Pump Room."





The project to restore the Old Magnesia Well Pump Room and the DOYCI Award were also mentioned in the
Harrogate Civic Society's
Chairman's Report for November 2012 as follows:


You can read more about the award in the Harrogate Advertiser article of 18th Oct by clicking the link below. (Be patient, it is a large file!)