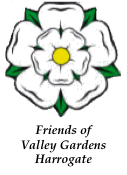 Welcome

The Friends Of Valley Gardens restore, maintain and enhance the area known as Valley Gardens and promote the Spa history and heritage of the area. Valley Gardens is open 24 hours a day throughout the year. We work in partnership with Harrogate Borough Council. We are a registered charity number 1148369. Our President is Martin Fish. Friends Of Valley Gardens are supported by the National Lottery through the
Heritage Lottery Fund
.
You Can Now Follow FOVG on:
_________________________

___________Twitter
_________________________

___________Facebook
________________

______Instagram (for Friends of Valley Gardens)
_________________________

__________Instagram (for Japanese Garden Restoration)

Bulletins
FOVG AGM Held on 16 March 2017: The AGM was held on 16th Mar in the Brostoff Community Center, St Peter's Church, Harrogate. It was followed by a talk given by celebrated local historian Malcolm Neesam entitled "The Story of Harrogate's Parks and Gardens". Please click here for more information.

Update on the Consultation on Large Events in Valley Gardens from October 2017

The decision by Harrogate Borough Council has been a long time coming. They have been in regular consultation over this period with the Streat Fest and have decided that the event should be held in Valley Gardens.
The Advertiser has reported that the event is to be in the Bog's Field area but Harrogate Borough Council had told us
that the event will be in the upper part of the Valley Gardens in the Sun Pavilion/Bandstand area. I am of the belief that this will be clarified in the Harrogate Advertiser.
The Streat Fest has been advised to take care of the area with suitable protection, especially for heavy vehicles. Harrogate Borough Council will monitor the event.
To many of us this a disappointment but not because we dislike Food Fests but because of the vulnerability of the area and the preference for the event to be sited on a hard surface.
Many of the public enjoyed the event and we have to accept the decision of the Administration and Harrogate Borough Council.
To date we have not been informed of any similar large events being sited in Valley Gardens.
For any further information contact Jane Blayney (Chairman Friends Of Valley Gardens ) 01423 505231, jane.blayney23@gmail.com

Historical Images Gallery: Hundreds of historic images of Valley Gardens are available on this site. Please click here to view the galleries.

Friends Pages
For current information about Friends' activities and events, please visit our Friends Pages.
To learn more about Friends of Valley Gardens, click here.
To learn more about Valley Gardens, click here.

Location
The main entrance to Valley Gardens is situated at the junction of Cornwall Road, Valley Drive and Royal Parade Harrogate. Post Code HG1 2SZ. See our maps page for additional information.