_______

Restoration of the Japanese Garden.

This project is led by Ann Beeby and Liz Chidlow.

The project is supported by the National Lottery through the
Heritage Lottery Fund
.
Bulletin - Heritage Lottery Grant Awarded:
The Heritage Lottery Fund has awarded a grant of £89,200 towards the restoration and refurbishment of the Japanese Garden.

We are extremely appreciative of this award and all the hard work put in by members Ann Beeby and Liz Chidlow who, assisted by Kate Dawson HBC (Strategic Development Manager), prepared and lodged the application.

Early in the New Year a partnership agreement for the duration of the project will be finalised with Harrogate Borough Council who are working with us to deliver the restoration of the Japanese Garden.
There will be regular bulletins
here
about our progress, the planned community activities, and opportunities to volunteer.
The official launch of the project will take place on 17th Jan at 11.30am at the Japanese Garden.
We can all look forward to an exciting year ahead, during which the main part of the construction should be completed.

General Information

The area originally designated as the Japanese Garden, located just west of the boating pond, is barely recognizable as such now and is in desperate need of a redesign.


If you would like to follow the progress of this project, please visit
Ann's Project Blog
.


The FOVG team working on this project in partnership with Harrogate Borough Council has completed submission of a Heritage Lottery Bid. We have the support of the Japanese Garden Society and their Vice Chairman, Graham Hardman, who has volunteered to work up a design which incorporates elements of the garden as it was in 1930 from archive images, and up to date ideas in Japanese gardens. The area is not suitable for the dry garden style of Japanese garden, so we will be making the most of the water features and adding rock features, modifying the planting etc.

If you would like to view the draft design you can download a copy by clicking on the image below.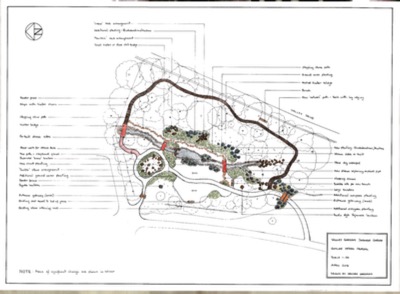 Should we be awarded a grant from the Lottery we would expect to be starting work during next winter. We anticipate that the garden construction will take most of 2017, and then during 2018 there will be events planned to get the benefit from this restored garden featuring various aspects of Japanese Culture.

The team would welcome anyone who would like to be involved with this exciting project. Please contact Ann Beeby at
ann.beeby@googlemail.com
if you would like to volunteer.

Below are photos of the current Japanese Garden and stream/pond area.