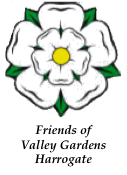 Welcome

The Friends Of Valley Gardens restore, maintain and enhance the area known as Valley Gardens and promote the Spa history and heritage of the area.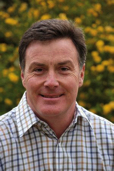 Valley Gardens is open 24 hours a day throughout the year. We work in partnership with Harrogate Borough Council. We are a registered charity number 1148369. Friends Of Valley Gardens are supported by the National Lottery through the
Heritage Lottery Fund
. Our President is
Martin Fish
.
You Can Now Follow FOVG on:
_________________________

___________
Twitter
_________________________

___________
Facebook
________________

______
Instagram
(for Friends of Valley Gardens)

_________________________

__________
Instagram
(for Japanese Garden Restoration)

Bulletins
Free Wellbeing Events in Valley Gardens:
The Yorkshire Centre for Wellbeing will host two more free events in the newly restored
Japanese Garden on 7 May, and 23 June. Please click
here
for more information.

Martin Fish Receives RHS Harlow Carr Medal:
FOVG President, Martin Fish, has been honoured by receiving the Harlow Carr Medal from the RHS for his contribution to horticulture in the North of England. To read the whole story, please click on the article below from the Harrogate Advertiser of 22 Mar 2018. To learn more about Martin, click
here
: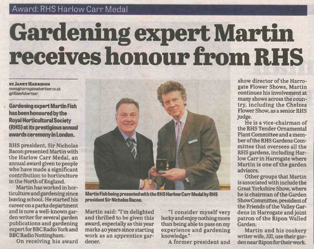 Friends of Valley Gardens Win Platinum Award in the 2017 Yorkshire in Bloom Open Spaces Category!
Congratulations to all the volunteer gardeners and thanks for all the extra shifts you put in to bring the Gardens up the this standard. Also congratulations and thanks to Simon Collier, HBC Head Gardener, and his team for all their support.
Harrogate International Festival to Take Over Management of 1940s Day in 2018:
Following an excellent 1940's event in 2017, FOVG decided that a larger organisation was needed to give this expanding community event the management expertise it required. On Sunday, June 17th, 2018, 1940's Day in Valley Gardens Harrogate will be organised by Harrogate International Festival. Contact: web site:
www.harrogateinternationalfestivals.com
, email:
Sharon@harrogate-festival.org.uk
,
telephone: 01423 562303


Tours of Valley Gardens and Presentations are Now Available:
Friends of Valley Gardens are now offering tours of Valley Gardens and the Old Magnesia Pump Room as well as the sites of our
current projects
. We also provide presentations to community groups about Valley Gardens. The following informative presentations are now available to be booked:

"Restorations Completed and Being Undertaken" by Jane Blayney. Please call 07794 583 888

"East Meets West Through Japanese Gardens" by Ann Beeby. Please call 07966 729 299
If you are interested in scheduling a tour, please contact our Chairman, Jane Blayney at
jane.blayney23@gmail.com
. Tours can accommodate all types of groups. We frequently host gardening clubs and schools and both the Brownies and the History Society have visited. All proceeds are applied towards the restoration, maintenance, and refurbishment of Valley Gardens.


Friends of Valley Gardens Thanks Our Supporters:
FOVG receives support from the Heritage Lottery, various Trusts, North Yorkshire Community Fund, numerous community groups and supermarkets, our members and personal donations from the local community and from visitors to the gardens. Thank you all for your support!


Friends Pages

For current information about Friends' activities and events, please visit our
Friends Pages
.
To learn more about
Friends of Valley Gardens
, click
here
.

To learn more about
Valley Gardens
, click
here
.

Location

The main entrance to Valley Gardens is situated at the junction of Cornwall Road, Valley Drive and Royal Parade Harrogate. Post Code HG1 2SZ. See our
maps page
for additional information.